BILICO | The bottle #2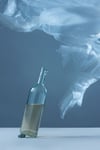 30x45cm/ 40x60cm
High quality Fine Art Print on Hahnemühle Photo Rag® Ultra Smooth 305
____________________________________________
This is the shot of "The released-bottle", is part of a diptych together with the shot of "The bottle in quarantine".
Take advantage of the 10% DISCOUNT: buy two prints, use the promo code BILICO2020 and have a beautiful diptych to hang on your wall!
____________________________________________

BILICO is an Italian word meaning precarious balance.
BILICO is a series of conceptual still life. A portrait of my moods during the quarantine that began on 10 March 2020 in Milan.
The subjects are objects without characterizing connotations. They are neutral objects, object-concepts: the fork, the bottle, the glass. Using what I had at home, my attention has unconsciously focused on elements connected to our primary needs: eating and drinking.
The shots are thought of as diptychs. The first shot represents the object inside its bubble and contains the sensations of the days during the lockdown, the second shot is the dream of the post quarantine.